Chapter 1: How Did They Get Here?
T
he purpose of the Bryan Animal Center is to care for lost or stray animals, animals that are brought to the center by good samaritans, or pets that are surrendered by their owners. The center also tries to help reunite these lost animals with their previous owners, or if that is not possible, find them new forever homes.
But how exactly does all of that work? Well, there are three ways that animals are taken into the Bryan Animal Center.
1. An animal is picked up by Bryan Animal Control. This is the primary way that animals come into the center. Animal control officers respond to calls from the public about stray or lost animals. The officers will go to the site and pick up the stray animal. The first thing they do on the scene is to scan the animal for a microchip or look for identification tags. If an ID is found, they will try to contact the owner immediately. If no ID is found, the officers will survey residents in the neighborhood to try and get information about the animal. If no owner can be found after all of this work is done, then the animal is brought to the Bryan Animal Center for continuing attempts to locate its owner.
2. An animal is dropped off by a Good Samaritan. Animals can be dropped off at the center during its business hours. If an animal arrives this way, the first thing the center's staff members will do is look for identification, and scan for a microchip, to try to find the animal's owner. The staff members also will compare the animal to entries in the "lost book" where people have called to report a missing pet. Staff members also check several online resources, but if no owner can be located, then the animal is placed on "stray hold" for 72 hours and kept at the center.
3. An animal is surrendered by its owner. When space is available, the center does take owner surrenders. If no space is available, staff members will offer other resources for people to re-home the animals themselves. When an owner wants to relinquish the rights to their animal for whatever reason -- they may no longer want the animal or can't care for it -- they sign the rights for the animal over to the center.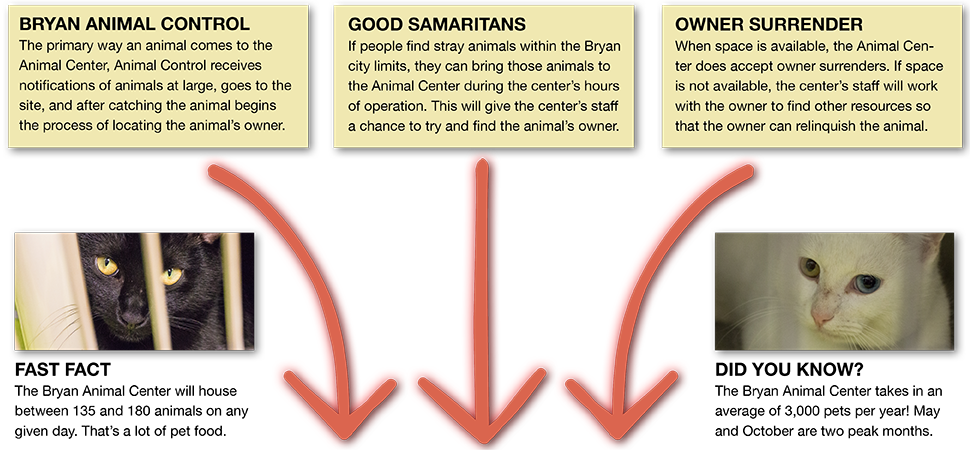 So what happens now?
"Once the animal arrives at the center, an extensive effort is made to find that animal's owner. In cases where no owner can be located, staff members will start the process for the three-day 'stray hold' period" said Julianne Burkhalter, Bryan Animal Center Supervisor. "They will start gathering information about the animal -- size, weight, age, color, breed, gender, date of intake, where did they come from, etc."
At this point, dogs and puppies get a couple of basic vaccinations, and animals will continue to be evaluated by staff members. The hold period allows time for owners to come and reclaim their animals, and it also gives the center's staff time to observe the animals to get more info about their health, behavior and temperament.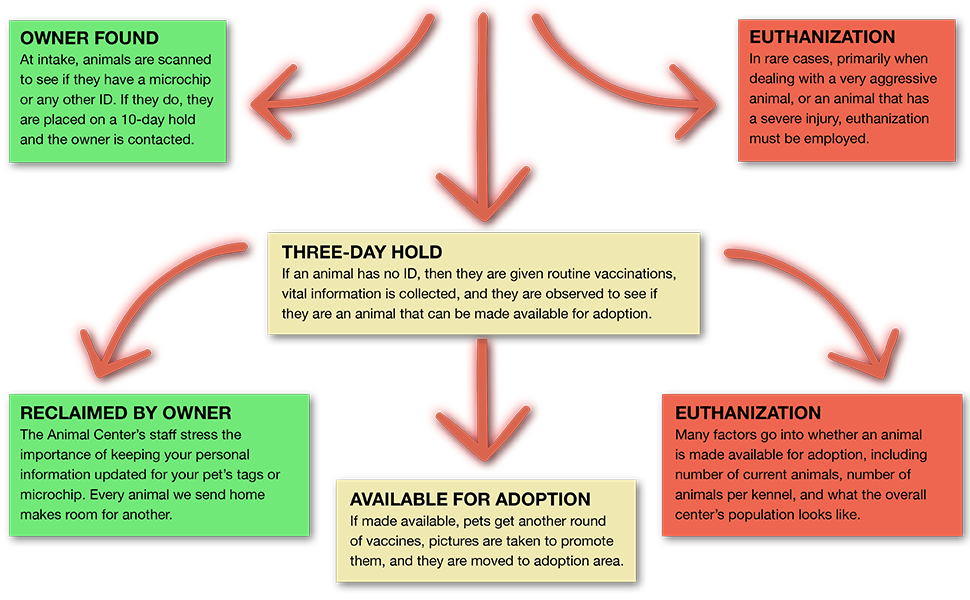 After the three-day hold period is over, staff members must determine if an animal can be made available for adoption. And many factors come into play. Animals are assessed based on their health, behavior, temperament, as well as available space and the makeup of the center's existing population.
More testing is done to better determine the health of the animal. But testing positive for a disease does not necessarily disqualify an animal from being made available for adoption. There are alternatives through rescue groups where the center may be able to send that animal. And on occasion there are foster homes that will take animals with special needs. In some cases the center can still house an animal, for example, a dog that is heartworm positive, if space allows.
Finally, if an animal is to be made available for adoption, they are given another round of vaccinations, and they are scanned once more to make sure they don't have a microchip. They are then moved into the adoption area. Staff members will take pictures of the animal and post them to various onsite, print and online listings to get the information out that a new animal is available for adoption.